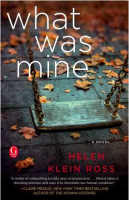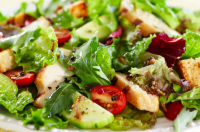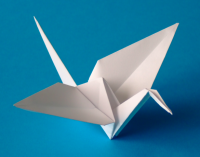 Simply told but deeply affecting, in the bestselling tradition of Alice McDermott and Tom Perrotta, this urgent novel unravels the heartrending yet unsentimental tale of a woman who kidnaps a baby in a superstore—and gets away with it for twenty-one years.

​Author Helen Klein Ross, whose work has appeared in The New Yorker, weaves a powerful story of upheaval and resilience told from the alternating perspectives of Lucy, Mia, Mia's birth mother, and others intimately involved in the kidnapping. What Was Mine is a compelling tale of motherhood and loss, of grief and hope, and the life-shattering effects of a single, irrevocable moment.

This is a good book to pick a recipe that everyone will want to "steal" from the hostess.  A great, and easy, chicken salad is just that recipe.  Add some avocado, mandarin oranges, tomatoes and a light vinigrette bringing it all together with some crunchy wontons on top & a side of warm bread..  Yum!
With summer just around the corner, and the meal being light, a wonderful Rose' or White Sangria is a perfect touch. 
A plate of creme puffs drizzled with chocolate syrup and powdered sugar is the perfect "stealable" dessert for your guests.  Have them grab a few and enjoy!
With IKEA, the "put-it-together-yourself" store, being a part of this story, it would be fun to make origami birds for each of the plates.  You could make them out of paper for a take-home goody, or fancy up your napkins in a shape.
Adding some fresh flowers that are soft and "airy", like Baby's-Breath and Chamomile, to the center of the table will give the table a feeling of comfort without being overbearing.
Also, add some large glass hurricane vases with white candles to add a finishing touch.
Now...discuss, discuss, discuss!